Xiaomi Mi 10 / Mi 10 Pro Flagship 5G Phones: Which One Should You Buy?
As the first domestic manufacturer to host an online press conference, Xiaomi is also under great pressure. Lei Jun acknowledges that the entire industry is quiet, but life still needs to be resumed as soon as possible. Production and R & D should be resumed as soon as possible, and the normal rhythm should be resumed. Held an online press conference.
Without the witness of the live media and fans, Xiaomi, which is about to reach its tenth anniversary, released the first true flagship machine after the brand split. Xiaomi, always criticized and cost-effectively tied, "released itself", starting at 3999 Xiaomi's standard edition, the Pro edition starting at 4,999 yuan, Xiaomi finally began to hit the high-end market. Lei Jun put on a mask, and Xiaomi finally shook off the low-cost yoke.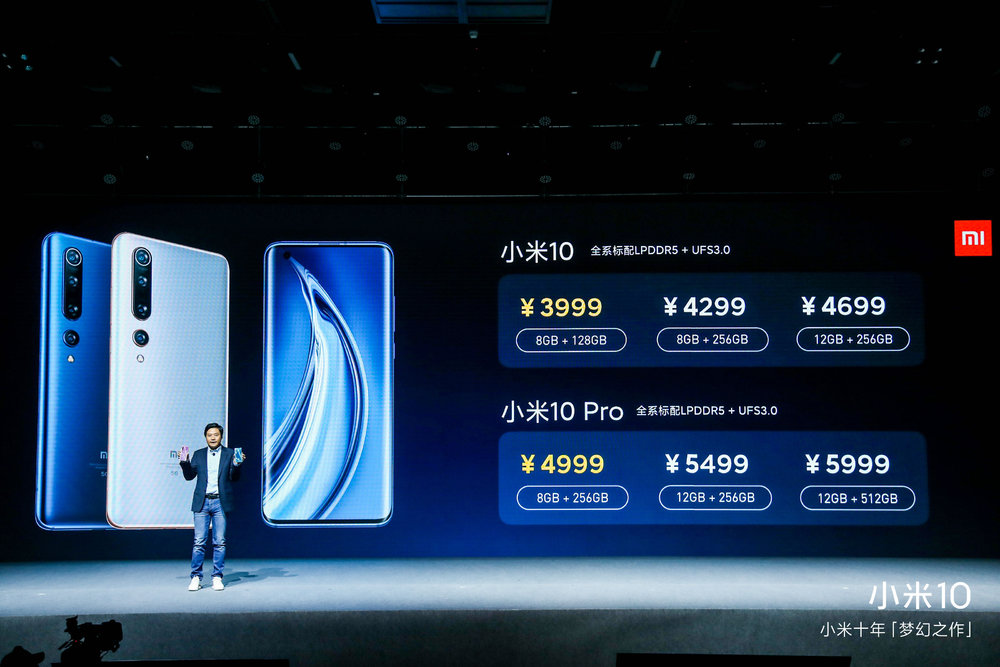 Configuration no suspense, top-level but with a small regret
In fact, Xiaomi Mi 10's configuration has been exposed, and the appearance is not surprising. 6.67 AMOLED curved screen, 3.84mm hole, screen 800nit brightness, 1200 nit peak brightness, 90Hz refresh rate, 180Hz touch sampling rate, COP process The chin of 3.32mm, weight 208g, thickness 8.96mm, is not thin and light, this is not the main selling point of Xiaomi 10.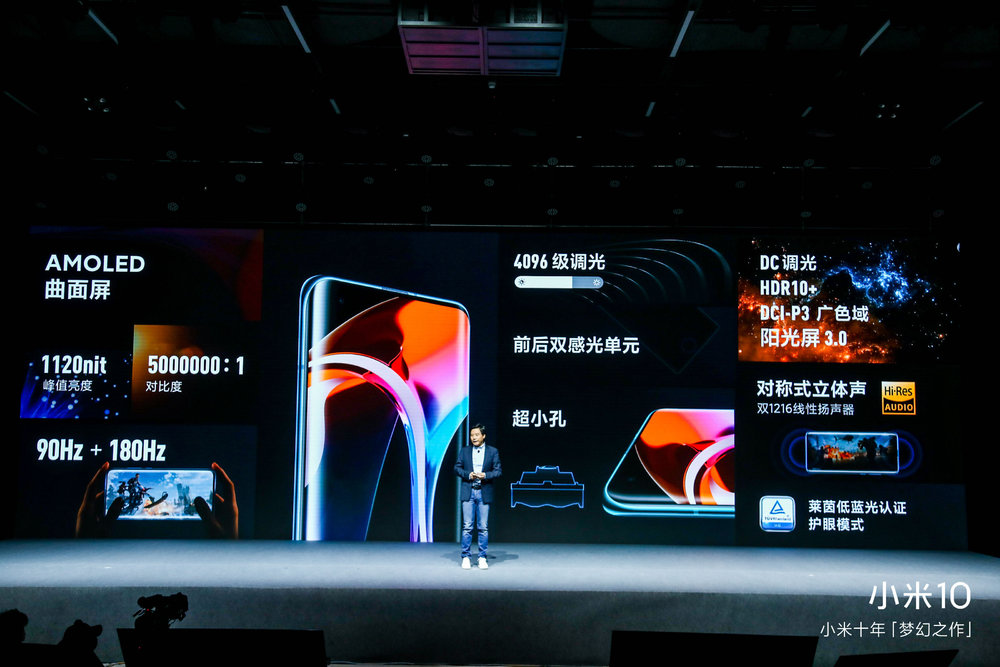 In terms of performance, Xiaomi launched the Qualcomm Snapdragon 865 in China, manufactured using TSMC's 7nm process, integrated Kryo 485 CPU processor, large core using A77 architecture, Adreno 650 GPU graphics core, and officially announced that the Snapdragon 865 is compared to the previous generation Snapdragon The 855 CPU improves performance by up to 25%, energy efficiency by up to 25%, GPU rendering performance by up to 25%, energy efficiency by up to 30%, and AI performance by up to 1x.
LPDRR5 memory, UFS 3.0 flash memory, Wi-Fi 6, dual-mode 5G are all available ... Xiaomi's consistent cheap big bowl strategy.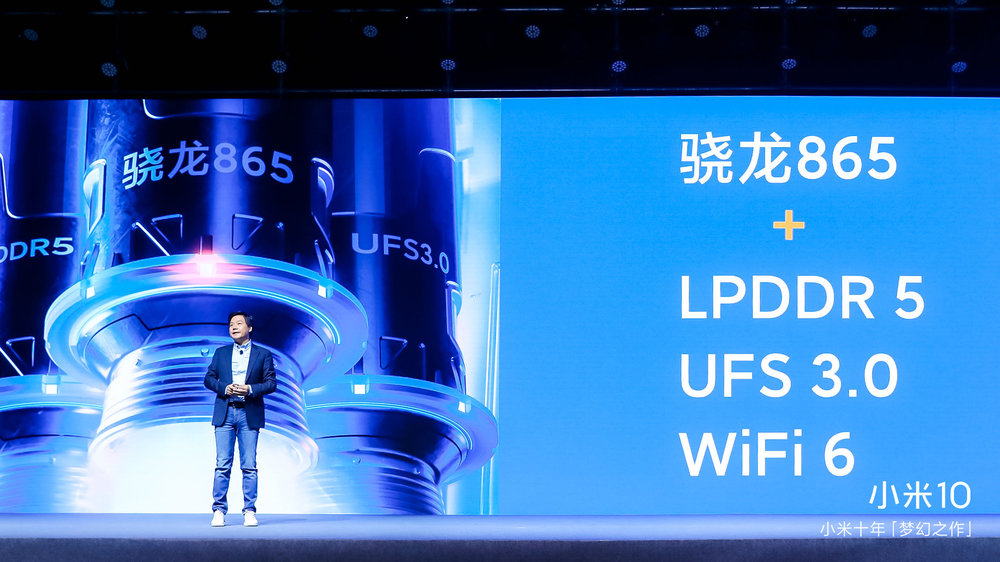 In terms of experience, Lei Jun took a long time to introduce Xiaomi 10's automatic brightness optimization. The two front and rear light sensors can optimize brightness according to user habits, holding posture, etc., and 4096-level brightness changes. Automatic brightness has also been a shortcoming of Android phones. In addition, Xiaomi Mi 10 also includes dual speakers and X-axis linear motors that were rarely used in the past. At the same time, NFC, infrared, etc. have not been castrated.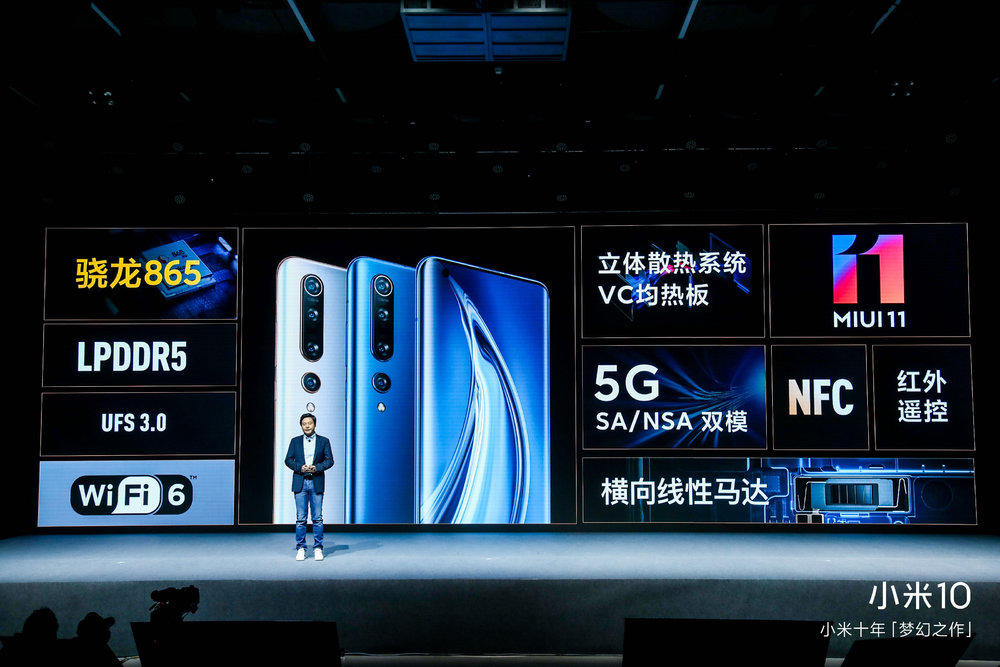 In terms of charging, the standard version is 30W wired charging, 30W wireless charging, 10W wireless kickback. Lei Jun described this 30W as "rushing to the limit of human beings, faster than the 40W of a friend", and it took 65 minutes to charge.
However, 30 W is as fast as 30 W. The standard version has a more "conservative" configuration, and it can only be upgraded to the Pro version. The biggest slot on the Mi 10 configuration is that there is still no 2K screen, which is a shortboard for the "true flagship" Xiaomi is committed to building.
100 Million Pixels Reworked
Xiaomi and Huawei have been on the market for several years, and the image is the fiercest battlefield. "Good photos" has become one of Huawei's labels. Xiaomi is obviously a bit "rushed" and has begun to take pictures. Therefore, the outside world can clearly see that Xiaomi has invested heavily in images over this period.
Starting last year, Xiaomi chose to bet on the "big pixel" direction. CC9 Pro first launched a 100-megapixel (108MP) CMOS in cooperation with Samsung . The Xiaomi Mi 10 series follows this configuration. The main camera is a 1 / 1.33 inch outsole , 0.8 μm. Unit pixel, 7P lens, support OIS optical image stabilization + EIS electronic image stabilization, the remaining three are 13 million pixel ultra-wide-angle, macro and depth of field lenses, no telephoto lens, front 20 million pixel lens, support 120 frames Slow motion.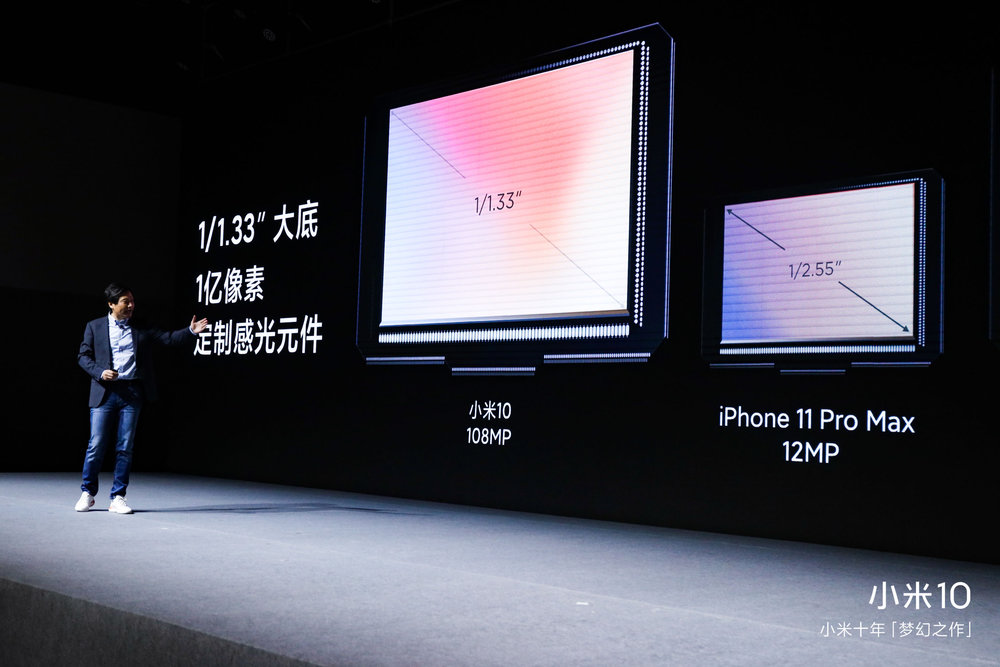 In order to control the volume of 100 million pixels, Xiaomi also introduced the HEIF picture format. The format used by this iPhone, compared with the JepG, takes up less space, and the picture information is not lost.
In terms of video, thanks to the powerful CMOS and processor, Xiaomi Mi 10 can support up to 8K @ 30fps video shooting, and also supports video cutting into 8K photos. Of course, 8K video is currently useless, and it is more about showing muscles. In addition, there are small features such as rain and snow special effects, document mode, photocopy ID card and other small features.
Two of the four lenses of the standard version are suspected of being "made up". Fortunately, the addition of the Snapdragon 865 allows this CMOS to perform better. The imaging speed is faster than the CC9 Pro, and you want more extreme photos. Still want to upgrade to Pro version.
What is Pro?
In order to explain Pro, Lei Jun even flipped through the dictionary: "Pro" stands for Professional. To put it simply, Xiaomi Mi 10 Pro is improved compared to the standard version mainly in the following points: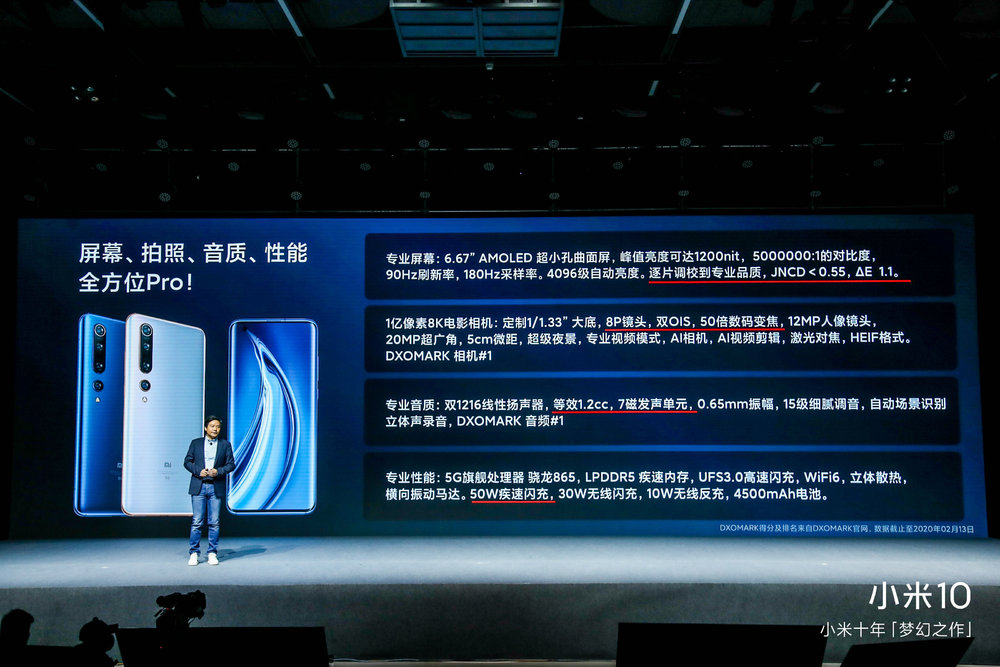 Appearance: Matte material with AG matte treatment;
Screen: color calibration after factory adjustment, JNCD <0.55, Delta E <1.11;
Image: The telephoto lens missing from the standard version appeared in the Pro version. In addition to the portrait lens with double zoom, it also supports up to 10x optical zoom and 50x hybrid zoom. At the same time, the AI ​​camera algorithm has been upgraded to support smooth video zoom, stereo recording, slow shutter movie video, video focus metering and separation, etc. The main camera has also been upgraded to an 8P lens.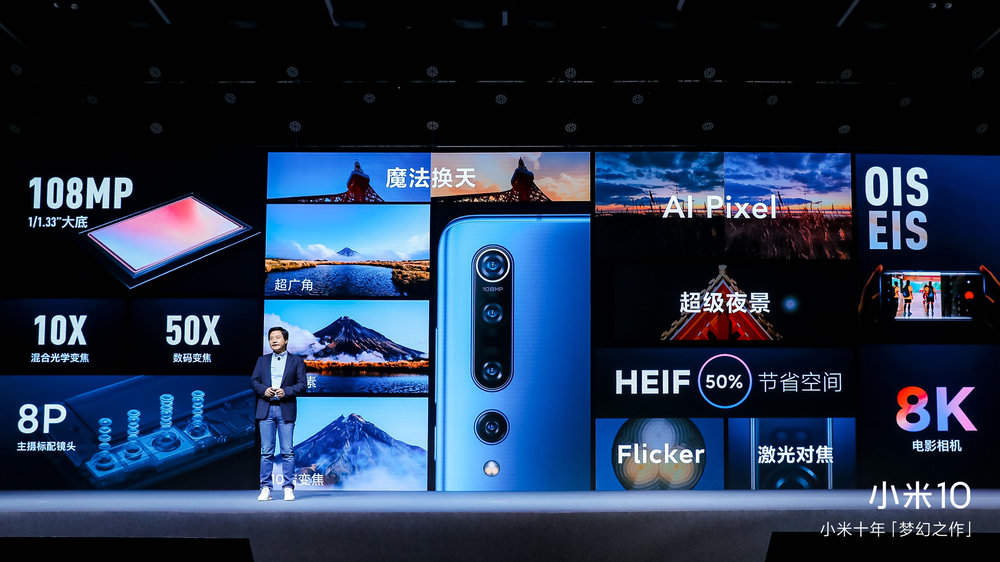 Speakers: The number of dual-speaker sound units has been increased from 5 to 7. It also participated in the DxOMark test, and won the first place in the audio field by DxOMark;
Fast charge: 50W, fully charged in 50 minutes, but the battery capacity has shrunk slightly to 4500mAh, with a 65W charger as standard.
In fact, the most obvious Pro should be the image . The stacking of this image module is really fierce. Xiaomi took out the highest configuration that can be taken out at present, and finally took Xiaomi 10 to the top position in the DxOMark list. Achieve beyond Huawei. When it comes to this, Lei Jun said: "Nothing is completely fair, but we just want to defeat the friends and merchants on the battlefield set by them (friends), which proves the strength of Xiaomi's R & D." Lei Jun is obviously too excited, and also "Deserving the truth" is said to be "deserving the truth". 
In short, in the image, Xiaomi has pulled out all the accumulation, and it has indeed reached the current top level. Wait for P40 to accept it. The Pro version is on sale from 8 + 256. It is 700 yuan more expensive than the Xiaomi Mi 10 with the same specifications. It is worthless to spend 700 more to buy these improvements, depending on market feedback. It is worth mentioning that this is the shortest time between the launch time of Xiaomi's flagship machine and the launch conference. Today's launch conference, the standard version will be on sale tomorrow.